Adult & Child Together Classes
for Children 30 months to 4 years - Harvest registering below on 8/14
A parent or caregiver participating in adult & child together classes will learn ways to support competence in their child, ways to nurture innate wonder and curiosity, and ways to help their child(ren) learn to be a part of a group of learners. Encouraging helping and caring comes naturally when teaching with animals.
Year-round and seasonal opportunities for playing in and exploring nature are endless at The Children's Farm. Activities include feeding and caring for animals; hiking in our surrounding woods and fields; planting(spring/summer)/harvesting (summer/fall) vegetables from the garden; creating a winter bonfire (winter); exploring ice-covered ponds (winter); planting seeds(spring/summer); gathering eggs; and learning how to ride the pony(spring/summer/fall).
Check back November 1st for winter options.
Adult & Child Together Details
Classes meet once per week and are two hours in length. Summer adult/child classes are 2.5 hours.
Children must be 30 months-4 years old at the start of class.
All adult/child together classes are non-separating classes. The parent/caregiver attends with their child(ren). 
We request the same adult attend each week with the child.
No more than one adult per child but one adult can be with more than one child.
Classes are held outside in all types of weather (rain or shine), so please dress accordingly. Our indoor classroom and barn are used sparingly.
Limit one session per family per season.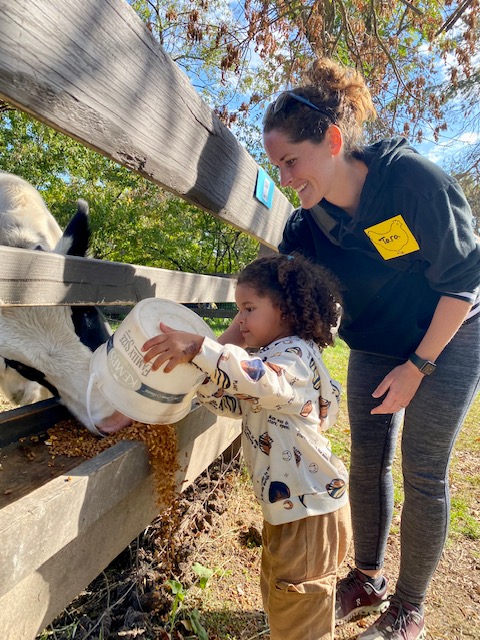 Fall Adult & Child Together - Harvest
Harvest on the Farm - class times 3:30-5:30
registration opens at 8am on 8/14/23
Spring Adult & Child Together
Spring on the Farm - class times 3:30-5:30 - $120
Check back 2/1/24 for more information